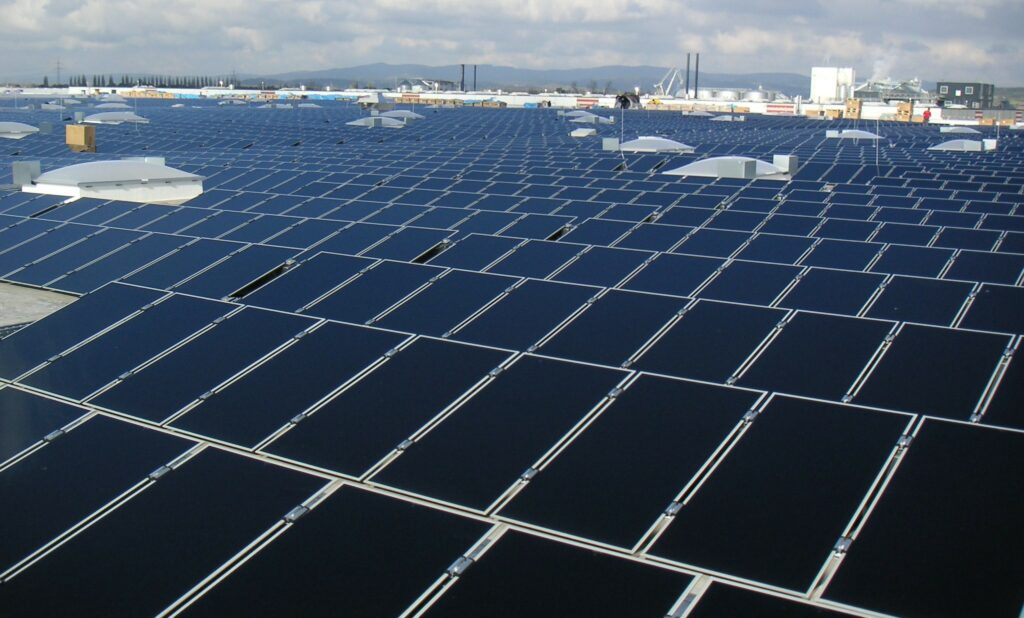 Commercial concentrated solar power plants were first developed in the 1980s. As the cost of solar electricity has fallen, the number of grid-connected solar PV systems has grown into the millions and utility-scale photovoltaic power stations with hundreds of megawatts are being built.
How to solar system work ?
Solar power is produced when there is sufficient sunlight falling onto your solar panel array. Electricity is converted from direct current (DC) to alternating current (AC) by an inverter, and the resulting flow is routed to your electric service through a special circuit allowing immediate use.
Benifit of Solar Plan
1. Solar power gives you a great return on investment
When thinking about switching your commercial building to solar power, consider it an investment, not an expense. The return on investment you get from solar power often exceeds that of most other investments in terms of the money your business saves over the years.
2. Reduces your operating costs
Once your commercial solar panels are paid off, they will reduce the operating expenses of your business, which will cascade through your business' balance sheet. Businesses will find that their cost to install their solar project will more than pay for itself over the lifespan of the solar system.
3. Control future energy bills
Predicting operating costs can be difficult since you often don't know what the future will bring. But predicting your electric bill becomes pretty easy once you add solar panels. Instead of facing unpredictable and wildly fluctuating energy bills, you'll know what to expect each month with a commercial solar panel system that dramatically reduces your energy costs. Your budgeting just got easier because you won't have to worry about rising energy prices.
4. Increase your property value
Homes and commercial buildings that have solar panels can have higher property values and sell faster than those that don't, per multiple studies. And that is not likely to change. With the solar revolution gaining steam, adding commercial solar panels figures to make your building more desirable. If you have lower electric bills, that's a boon for any business owner.
5. Tax credits and bonus depreciation
When you install commercial solar panels, you benefit from the Solar Investment Tax Credit (ITC), which gives you a 26% federal tax credit if your solar panels are installed by the end of 2019. With 100% bonus depreciation available, businesses can take an immediate first-year deduction on their solar installations.
6. Solar panels are more affordable than ever
Solar panel installation costs have fallen more than 70 percent over the last decade. This means the price of adding solar panels also has fallen. The federal Solar Investment Tax Credit (ITC), state tax credits, and cash rebates all work to reduce the solar system installation cost.
7. Improves your cash flow
Once you have your commercial solar panels installed and hooked up to the energy grid, you start to save with lower energy bills each month. When less money goes to the power company, you'll have more cash on hand once your panels are paid off.
8. Improves your brand with a greener image
One of the great things about commercial solar panels is how you can market your commitment to clean energy to your customers. This sends a positive message about your dedication to sustainability and the environment. Every time your employees, customers, shareholders, neighbors and others know that you're going green or see the panels for themselves, you'll be making a great impression. Going solar not only helps protect the environment, but it also can affect how everyone in your community views your company.
9. Supports the local economy
When you contract with a solar panel installation company such as Green Wave Energy Solution, you are boosting the local economy. Workers in the local market complete the installation. And, increased demand for solar panel installations increases the availability of high-quality, well-paying jobs. Those workers are likely to be your current and future customers.
10. High reliability and low maintenance
Commercial solar panels are virtually maintenance-free and noiseless. In most cases, the structure of commercial buildings makes them easily accessible. The solar cells are encased in tempered, protective glass, framed by non-corrosive aluminum. They are built to be exposed to the elements and can withstand rain, hail, wind, and snow – just about any weather-related threat you can think of.
In general, the photovoltaic cells that make up the solar panels very rarely break down. Even if they do, our solar panels come with a 25-year warranty, which means that once you add solar panels to your commercial building, you will generate your own clean electricity for at least 25 years or more, from a system that is just as functional and probably more reliable than the utility company.
Why Choose Us ?
Green wave Energy solution is a globally reputed solar engineering consultancy operating in India since 2016. With a 10MW+ of global experience, team of over highly-qualified engineering and solar experts We are not just a solar installer but a passionate team of technocrats which have come together to contribute for the enhancement and development of this nation. we are providing full-service Engineering, Procurement, and Construction (EPC) with quality deliverables.